SilverLetomi
Get Yourself a Grumpy Little Grumpus [WoW Parody]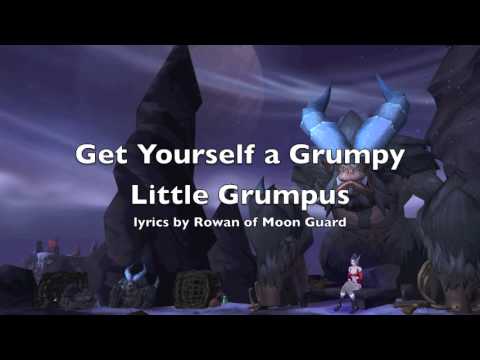 Veröffentlicht am 24.12.2015
Original Song is the classic "Have Yourself a Merry Little Christmas".
If you're not familiar with it, or even if you are, you should listen to Sharm's beautiful cover:
https://www.youtube.com/watch?v=TXsXg...
Instrumental from:
https://www.youtube.com/watch?v=mUaH6...
Fantastic lyrics by:
https://www.youtube.com/user/Infideli...
----------------------------
WHOA PATREON?!
Become a Patron of Letomi to get early access to her parodies, an inside view on how the parodies are made,
as well as Patron-only Vlogs, Updates, Photos, and more!
http://www.patreon.com/Silverletomi
If you liked what you saw and wanna stay on top of all the updates from Letomi,
or just chat from time to time, feel free to add me on these mediums:
http://www.twitter.com/Silverleto
http://www.facebook.com/DKLetomi
http://silverletomi.tumblr.com
Have a parody idea? Song request? Unsent love letter?
Friendly advice? Send it to
letters2letomi@gmail.com
!
----------------------------
Get yourself a grumpy little Grumpus
Get his minion too
Don't forget, the Winters Little Helper gnomes
Go show off your grumpy little Grumpus
Make him follow you
Savage Gifts, the only way to get your own
Here we wait, for the Winter guy
Allies go to I-ronforge
Hordies get theirs in Ogrimaar
No it's not too far, at all
Both the Factions celebrate together
But still far apart
PvP will have to take a backseat now
Get yourself a grumpy little Grumpus now
Take a peek in those piles of snow
Grumpus like to go inside
Sometimes they hold a big surprise
Yellow snow disguise, oh No!
Every year, they give us something different
Happy Winter's Veil!
Let's see what next year Blizzard puts on sale
Get yourself a grumpy little Grumpus now